Arc
The presenter has activated the presenter mode. Would you like to follow?
Follow presenter
You are following the presenter.
Stop following presenter


We are Arc
We make music and sound design for media
We are 3 composers and 2 sound designers

Our vision is to bridge the boundaries of applied and autonomous composition by making music that can stand its own
Our music and sound design tell a story that you can listen to anytime
A crucial element for achieving that is in our view the tension 'arc'


Discover the effect of our music on screen and get a chance to be in the driver's seat of a composer with A Piece of Arc! 
Daniël Meppelink           |           Fons Beijer           |           Jesse Hendriks           |           Lieuwe Philipse           |           Ruben van de Lagemaat
www.arcaudio.nl                                     YouTube                               arcaudionl@gmail.com            
A Piece of Arc
Take control of what you hear on screen
A Piece of Arc
Everything you hear in a movie usually consists of layers. Layers within the music, as well as the sound design. With this tool we want to give you a chance to be in the driver's seat of a composer and discover the effect of those different layers.
We provided 3 projects we've worked on ourselves with those different layers. All these projects can also be found on this page. Give it a go and let us know what you think!
IMPORTANT INFORMATION:
- this tool works best in Google Chrome
- make sure you're connected to Wifi
- click the screen once to start the video
- special thanks to Ward Slager for developing this tool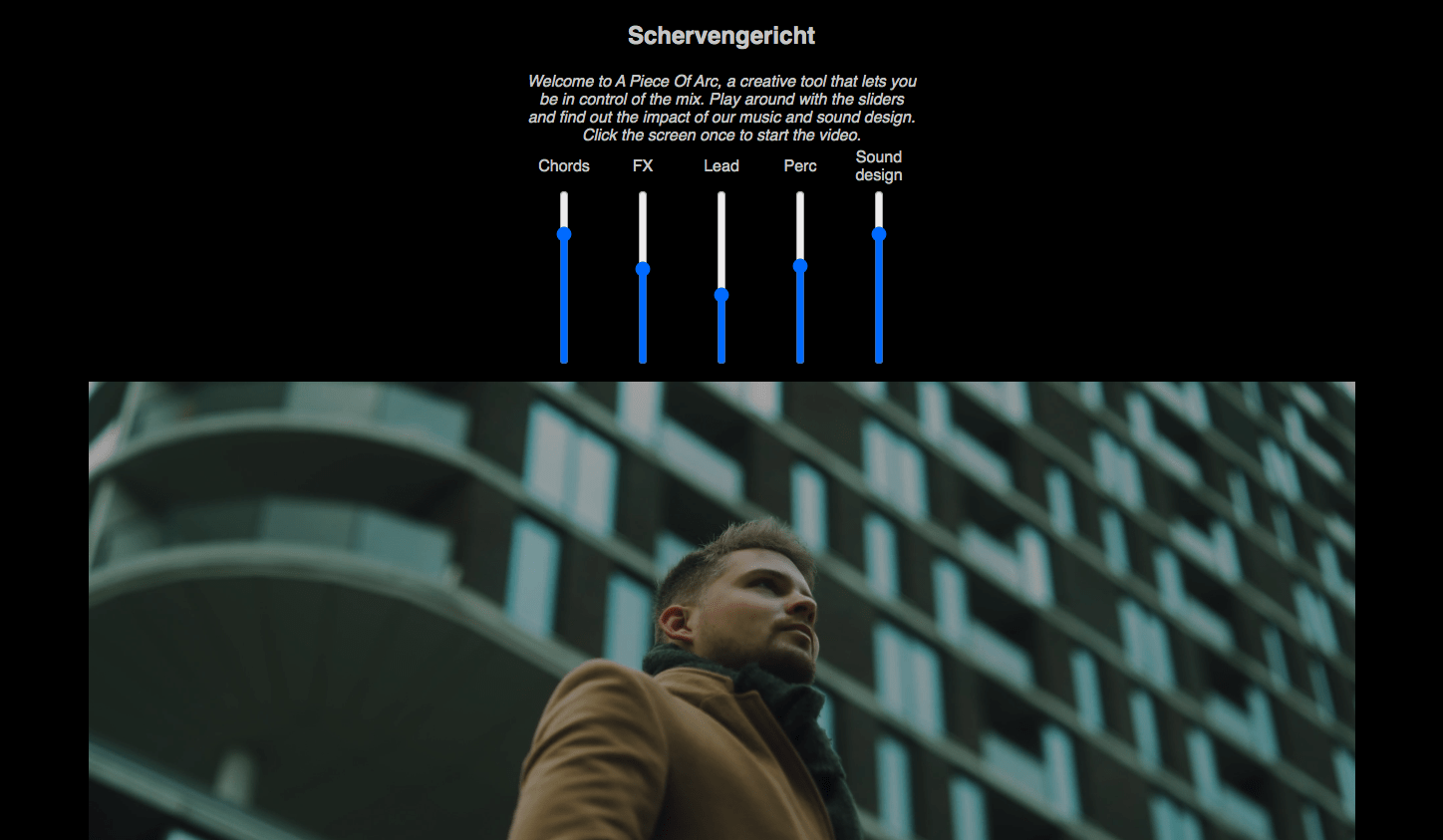 Portfolio
A selection of some of the projects we've worked on
Dier
A scene from an animation about the relation between men and animal. We created the music and sound design.


featured on A Piece of Arc: 
click here


Lekker Bezig Leiden
One of many videos out of the ad campaign from the city of Leiden to promote corona regulations. We created the music.
Deep Burn Blue
Our very first collaboration. We created music and sound design for this teaser video of the song Deep Burn Blue by the Paper Kites.


featured on A Piece of Arc: 
click here
Upcoming Projects
This is a selection of the many great projects that we're working on right now

"Scavengers"
A beautiful 3D animation about a dystopian cyborg western world. A lone hunter discovers the impact of his actions when he hunts down and kills a bison.
The video shows artwork and storyboards of the film alongside one of our demos as a reference for the general mood of the film.

"Schervengericht"
A controversial film about a man who can't deny his sexual orientation. Can he share his secret and be accepted for who he is? Or will he be judged for something he never did? 


featured on A Piece of Arc: click here

"Natuurlijk"
A experimental documentary that explores and portrays the relationship between humans and nature. Nature may seem like a constant given, but even our smallest actions can impact our surroundings. 


"De Subliemen"
Visiting the sea leads to experiencing 'the Sublime' : the pleasant eeriness, a feeling of insignificance. 

"Find Yourself A Faith"
A documentary about the 'church of the 21st century' ; the quiet room ('stilteruimte') and the people that visit them. In a time where religion is often seen as something of the past, is this a new way to find meaning in life? What does that say about us as people and our needs? 

"Ik Wilde Nog Even Mijn Moeder Bellen"
A documentary where the maker, who lost her mother, goes searching for her father in Zimbabwe. A HKU / MediaMonks production.

"Childhood"
(working title)
An animation about childhood and the memories that come with it. The film will be filled with monologue from a diverse group of people talking about their childhood. This monologue will be supported by Frederieke's nostalgic and colourful animations. The video shows some of these animations.
Live Chat
We'd love to hear from you! Leave a message or ask a question!


We horen graag van je! Laat een berichtje achter of stel een vraag! 
arc audio design media music muziek muziek en technologie showcase sound design technologie